This post may contain affiliate links for products I recommend. If you click a link and buy something I may receive some compensation. This does not change the price you would pay.
In this article I will be reviewing the best high back office chair with headrest for tall people. There are quite a large selection of office chairs for tall people available online and most are comfortable and reliable.
They also have a great design and are ergonomically designed for your body type. Many of the manufacturers have several options and features to suit your needs. Just like standard office or computer chairs they still support your body.
They are also designed to reduce stress on your muscles including your back, neck and thighs and there are also height and swivel adjustments. You can find a high quality and durable office chairs by shopping online.
In a hurry? Check out the best selection of high back office chairs with a headrest here.
Best High Back Office Chair With Headrest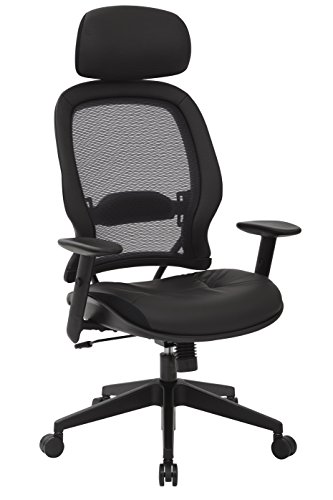 If you are searching for a adjustable office chair for tall people, then this chair is highly recommended.
Some of the features of the SPACE Seating Professional AirGrid Dark Back and Padded Black Eco Leather Seat Office Chair With Headrest include a thick padded contour mesh seat and a matrex back. It has a height and depth adjustable headrest, height adjustable arms and adjustable lumbar support.
For easy rolling and transport it has dual wheel carpet casters and a pneumatic seat height adjustment and a 2 to 1 synchro knee tilt control which allows for stability and movement when needed.
The chair measures 55 inches high by 27 inches wide by 27 inches deep and weighs 61 pounds.
This chair is highly rated by customers at Amazon and is one of the best adjustable chairs on the market.
The maximum weight capacity of this ergonomic office chair is 250 lbs in weight and I really like the mesh back which is made from a breathable mesh fabric and can help support your back to reduce stress to the spine.
If you are looking for a well designed ergonomic office chair that comes with an adjustable headrest, this product from SPACE is a great option and also very affordable.
---
Best High Back Office Chair With Adjustable Headrest
The Comfort Products 60-5800T Commodore II Oversize Leather Chair with Adjustable Headrest is a heavy duty office chair that is built to last for many years to come.
The upholstery is made out of black bonded leather to give extreme comfort and has a nice modern style design that fits well in any decor in your home or office.
This office chair can handle quite a lot of weight, it has a weight capacity of approximately 350 lbs and it is well suited for the heavy and tall individual who is looking for a well built office chair.
The headrest is fully adjustable and you can adjust the height to your liking. Headrests can help reduce pain and strain to your neck as well as your shoulders. They can also help reduce tension headaches especially if you work long hours at your desk.
The seat cushion is made from high density foam and will keep it shape even in heavy use. This is important to help prevent lower back pain and to reduce stress to the lower spine.
The seat is also wider to allow better comfort when seated and this feature is great for the larger person looking for an ergonomic office chair for their larger frame.
If you have been searching for a strong ergonomic leather computer chair with an adjustable headrest, then this product from Comfort Products is a great option to think about.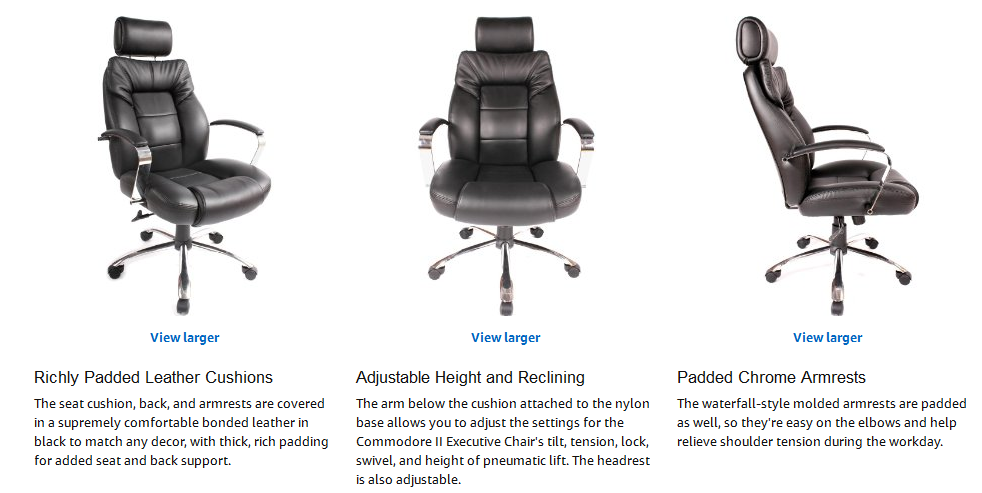 ---
Most Popular High Back Swivel Office Chair With Headrest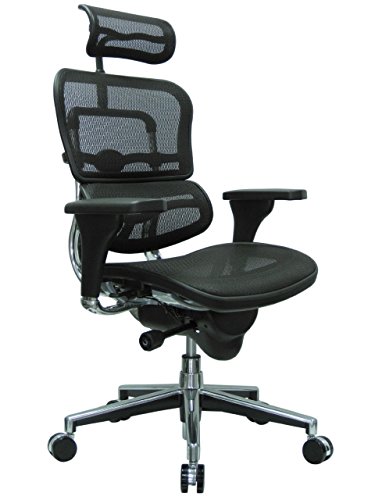 The Ergohuman High Back Swivel Chair with Headrest is a highly rated product on Amazon.com and can give you the right support for your back as well as give maximum comfort.
This high back ergonomic office chair comes with an amazing 8 adjustment features to allow you to get the right comfort no matter what body type you have.
The 8 adjustments are tilt tension control, tilt lock, back height, back angle, seat height, seat depth, synchro tilt and arm height.
It is made from a breathable mesh fabric to allow better lumbar support as well as better overall comfort.
This is a very well made office chair that uses very strong materials to allow better durability. If you are looking for an office chair for heavy use, this is a highly recommended office chair and a great investment for any office worker.
The arm rests are made from leather to help reduce wrist and hand fatigue which is a great feature of this office chair.
You will also get a lifetime warranty with this highly rated computer chair with adjustable headrest.
Click Here To Read What Other People Are Saying About This Office Chair
---
Best Leather Executive High Back Office Chair With Adjustable Headrest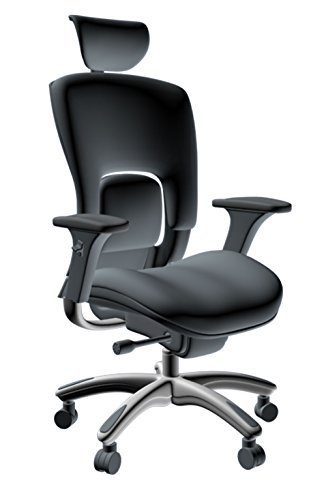 The GM Seating Ergolux Genuine Leather Executive Hi Swivel Chair Chrome Base with Headrest is a highly adjustable office chair and is for anyone looking for a comfortable chair that can support their back.
This computer chair is made from genuine leather to give you the right comfort and the seat cushion has very thick cushioning to help reduce any pain in your lower back.
The adjustable headrest is one of the best features of this office chair as it can be adjusted to the correct height as well as the right angle.
If you regularly suffer from a stiff neck when seated at your desk, getting a computer chair with a headrest can give you better comfort.
The unique lumbar support system can help reduce lower back pain and also help reduce muscle stiffness. The back seat also can recline which is great feature if you want to take a rest from your work.
The arm rests are also highly adjustable , they can be moved forward, backward, left and right.
The seat slide function is also very important, by adjusting the seat forward or backward you can get the right seat depth no matter what height you are , tall or short.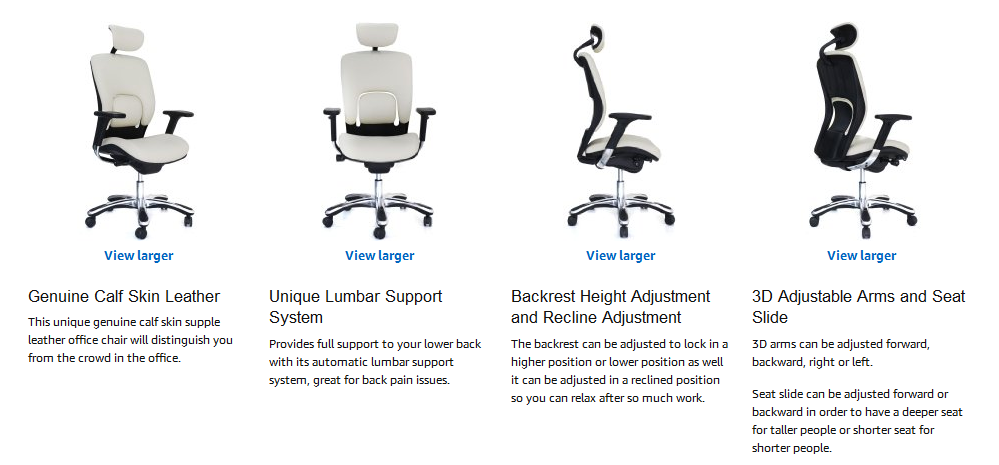 ---
Purchasing the right chair for a tall person does not have to be hard and it is important that you get the right chair for your height as this will help reduce strain to the neck, back and shoulders especially if you work at a desk for long hours.
If you are looking for  the best high back office chair with headrest that tilts, has an adjustable headrest and has lumbar support then these products above are a perfect choice.  A Big and tall office chair is also a great investment and will last for many years to come.