This post may contain affiliate links for products I recommend. If you click a link and buy something I may receive some compensation. This does not change the price you would pay.
What should I look for in a gaming computer? This is an important question to ask if you want to purchase the best gaming computer that can handle top end games.
If you're an avid gamer like I am, you must know from experience that computer games can only be really enjoyed if your PC is powerful enough to do justice to the high end graphics, respond to the speed of the gaming engine and deal with the demands of the AI.
So, what makes a computer powerful enough to deliver power packed performance on various sorts of game? Let's find out just what to look for in a Gaming Computer, that is at a price that doesn't make gaming an unaffordable passion!
Today's sophisticated games need immense power and breakthrough speed. Achieving both is only possible through processor overclocking but in a way it doesn't spoil your machine. The Intel Core i5-3570K is simply amazing in its gaming speed performance and is literally unbeatable at its price. It's a real good bargain!
What Should I Look For In A Gaming Computer?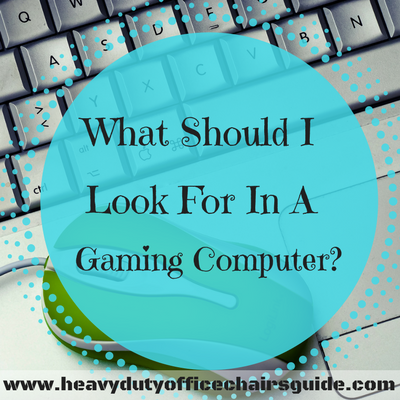 You must make ample provisions to save your overclocked CPU from overheating by investing in forced cooling.
Liquid-cooling systems should be preferred for their greater cooling capacity compared to a combination of large heatsinks and multiple fans as they make much noise.
Dust filters attached to the fans are also recommended to reduce clogging up your gaming computer due to the debris that somehow finds its way inside.
A cooler gaming PC will give you much enhanced performance compared to one that heats up easily.
The graphics card is the single most expensive component in a gaming computer that you should never compromise on. nVidia GTX 680 or AMD Radeon HD 797 are both good and comparable choices if you're wondering what to choose for your gaming computer.
I strongly recommend that you choose the one that is more compatible with the kind computer games you like to play keeping in mind that many games are sponsored by either AMD or nVidia, making them more likely to perform better on their cards.
Also, while having double graphics cards in SLI or CrossFire mode might be extremely desirable, the decision needs to be logically weighed on the scales of budget that you have for gaming computer.
You must consider that most shooting games require powerful graphics hardware more than CPU performance. Complex games involving AI need a powerful CPU to process it more quickly. A high-end GPU is not so desirable in such games. Real-time strategy games better perform on a gaming computer that has equal emphasis on GPU and CPU.
While a specialized gaming sound card is able to create a more immersive experience for gamers, this is one area that I personally spend the least money on. However, the decision should be yours keeping in mind that gaming sound cards can add multiple sound effects, improve audio quality and most importantly relieve the CPU from sound-processing work.
When it comes to choosing the monitor for your gaming computer, I recommend buying a large screen monitor that offers a fast response time and has no dead pixels. Wider viewing angles of your monitor can also enhance your gaming experience.
Your gaming skills are only enhanced by a good pair of keyboard and mouse that are specifically designed for gaming. Wired devices offer better responsiveness compared to wireless mice and keyboards. The mouse that you choose for your gamin PC must be of high-resolution. The keyboards should ideally have programmable keys with backlighting.
Duration and terms of Warranty on all the parts you choose for your gaming PC are crucial. The longer the warranty, the better the deal for you. However, you must steer clear of long duration warranties that only cover labor charges. Rather, opt for the ones that cover full repairs or replacements.
For extremely immersive and engaging gaming experience, the three most important factors that should ideally drive your decision to buy any part for your gaming computer are your budget, the games you play and the warranty available. If you keep these in mind, you have effectively dealt with the issue of what to look for in a gaming PC.