This post may contain affiliate links for products I recommend. If you click a link and buy something I may receive some compensation. This does not change the price you would pay.
Drafting stools with wheels allow better movement and they are great to use if you have a tall office desk. These types of office stools are commonly used by architects and also people in the medical field.
When looking to purchase these types of stools for your office, it is best to find a product that is made from heavy duty materials which will not only save you money but will also last for a very long time.
Below, you will find the best drafting stools that offer better comfort, have an ergonomic design and are also affordable in price.
In a hurry, find the best range of drafting stools with wheels here.
Best Drafting Stool With Wheels For Better Comfort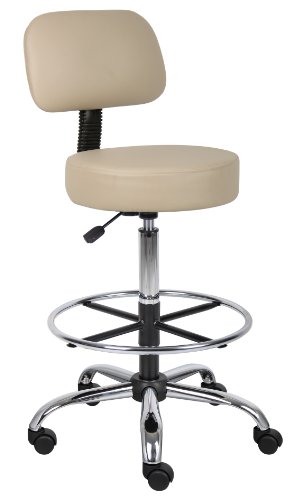 If you are looking for a well designed office stool, this product from BOSS is a great option and it comes in a black and beige color.
The Bosscaressoftplus drafting stool with back cushion is great for tall work stations or desks in your home or office. This product is very well made and has a well designed back cushion to help reduce strain to the back especially while seated.
You can easily adjust the seat height and is great if you have a very high desk or work station. It is upholstered in a very durable caressoft, which makes this stool very easy to take care of and will last for many years.
The legs of the stool have a very nice chrome finish and are made from heavy duty materials for better durability. The back cushion is also designed to align your back in a natural position to reduce any strain to the back or neck.
The Boss B16245-BK Caressoft Medical/Drafting Stool with Back Cushion can handle up to 300 pounds of weight and the footrest is also very strong as well.
Some assembly is required when you get this product, but you will get full instructions on how to put it together. You will also not need any special tools to put the stool together which is also great news.
The stool can also swivel at 360 degrees which can help to give you better comfort while seated. The castors are also very easy to move on any floor surface and they are made to last.
You will find that this ergonomic stool is very comfortable especially if you work at your high workstation for more than 6 hours per day. The back cushioning is very padded to give you the right comfort.
Once the stool is fully assembled, it can reach a height of up to 29 – 35 inches from the floor. It can reach most high workstations and tables out in the market today. Currently this product is priced under $100 and is made from a very reliable company.
If you work for long hours at a high desk, the Boss drafting stool with back cushion is a great option as it has a strong ergonomic design and also supports your back when seated.
---
Popular Drafting Office Chair With Wheels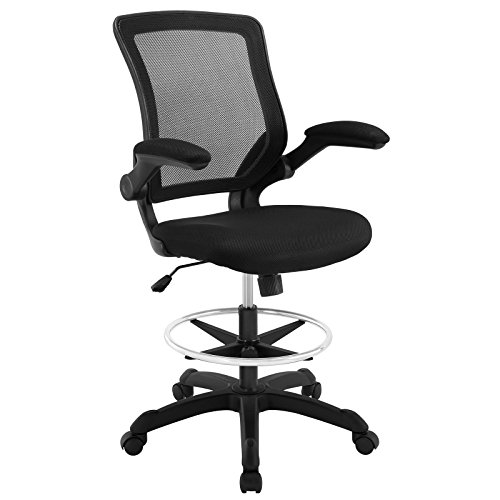 The Modway Veer Drafting Chair In Black can be used for many uses such as reception work, playing your guitar and even at your standing or drafting desk.
This drafting stool is a best seller at Amazon.com and has a nice mesh back fabric which allows better air flow as well as help support your back when seated.
The seat also has a waterfall design, this can help reduce fatigue to your legs, ankles and feet. If you regularly suffer from bad circulation when seated at your desk, an office chair with a waterfall design can really help improve circulation.
The ergonomic design also allows you to have a better posture and this can prevent stress to the lower and upper back. Some of the other ergonomic features are seat tilt, tension control and also a 360 degree swivel for better movement.
The seat has also a generous amount of padding to offer better comfort and the weight capacity of this drafting stool is 330 lbs in weight. I really like the modern design of this drafting chair and it is also very affordable.
If you are looking for an ergonomic drafting stool that is built to last, this product from Modway is a great option and really comfortable too.
---

Adjustable LeatherPlus Drafting Stool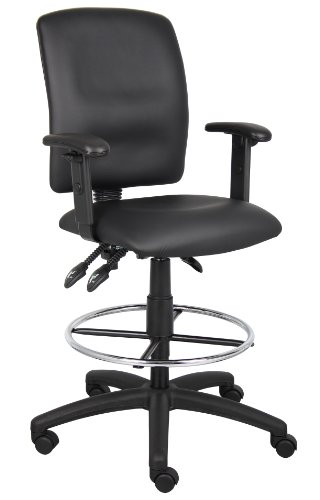 The Boss Office Products B1646 Multi-Function LeatherPlus Drafting Stool with Adjustable Arms is another popular product on Amazon.com.
The upholstery of this drafting stool is made from LeatherPlus which not only makes this chair look amazing in any office, but it also offers amazing comfort.
The adjustable arms is a great feature of this drafting stool and their are two types yo can choose from, the standard arms or loop arms. You can also get this product in a crepe fabric with or without arms, your choice.
It has double wheel castors for better durability and can be used on many different floor surfaces. Some of the other ergonomic features is the back angle lock, seat tilt, pneumatic gas lift height adjustment and adjustable arms.
This is a very heavy duty drafting stool and can handle up to 250 lbs in weight.
If you are looking for a ergonomic designed drafting stool with adjustable arms for better comfort and to reduce arm fatigue , this product is a great option.
---
Best Mesh Architect Drafting Stool For Maximum Comfort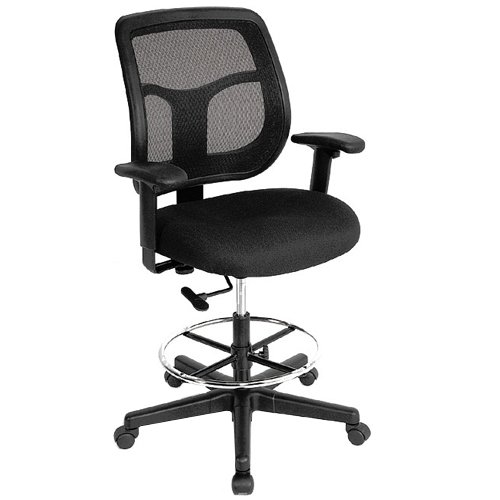 The Eurotech Apollo Mesh Drafting Chair is a highly adjustable drafting stool that can give you better overall comfort as well as fully support your lower and upper back.
There are two different colors that you can choose from, black or grey.
The main adjustable feature are the seat height, back height, arm height and also arm width. The chair back is made from a mesh fabric to give you the right back support.
The dual wheel castors offer better support and also makes this drafting stool very sturdy. The weight capacity is approximately 250 lbs in weight and this drafting stool chair would suit anyone who has a standing desk, reception or architect work.
The maximum seat height of this product is 36 " and works well with taller office desks.
If you are looking for a very heavy duty drafting stool chair that is durable and can handle moderate amounts of weight, this product from Eurotech is a great option to think about.
No matter what drafting stools with wheels that you choose, make sure they have an ergonomic design and offer adjustable features to give you the right comfort and support for your body.