This post may contain affiliate links for products I recommend. If you click a link and buy something I may receive some compensation. This does not change the price you would pay.
A big part of the population have jobs that require them to sit in front of a computer for a length of time. This lack of activity often leads to pain in the back, neck, and leg areas if the chair is not ergonomically designed. There are many styles of chairs out there. The BL-ZP-806-BK-GG office chair with high-back mesh from Flash Furniture has gained many favorable reviews from users and is one of the best rated heavy duty ergonomic office chairs.
Read more below to find out why this is the best heavy duty ergonomic office chairs. If you would like to take a quick look at the best ergonomic computer chairs, click here.
Most Popular Heavy Duty Ergonomic Office Chair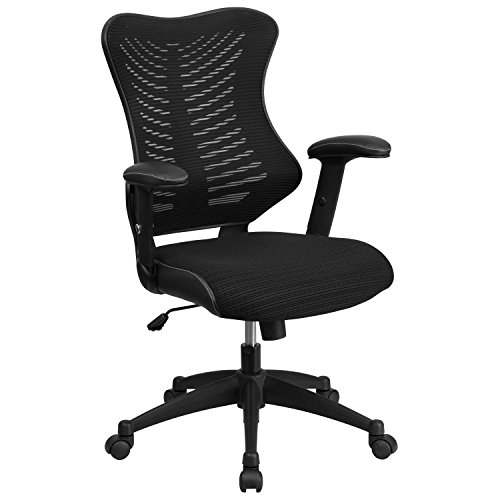 A major difference that this chair over other ergonomic chairs is that the back and the seat are constructed from a mesh material that is breathable.
That means the air around your body can circulate better, thus keeping you cooler and more comfortable while you are sitting down. If you tend to sit for a long period of time, this feature is very helpful.
The padding beneath the mesh on the seat is made from CA119 foam that is fire retardant. The seat is 21 inches wide and 20 inches deep, and it is big enough to accommodate people of a larger size. No need to buy an extra large chair.
The back is high, with the height from the seat at 24 inches. It is contoured in such a way that relieves pressure on the lower back area so that your back will not feel strained. There is lumbar support that is built in that adds extra comfort.
The edge of the front seat contours downward like a waterfall. This design eases pressure from your lower legs and improves their blood circulation. You can adjust the tension and the tilt of the seat and lock it in when you find the optimal setting. This truly customizes the chair to your liking.
The height of the seat is adjusted by a pneumatic lever so you can raise or lower the seat anytime you want, conveniently and easily.
The Flash Furniture BL-ZP-806-BK-GG High-Back Mesh Chair with Nylon Base can swivel around 360 degrees. You can easily spin around to get to something behind you without having to strain or twist your back. This is ideal if your work space is configured in a way that places work files and papers around you.
The arms of the chair are padded and fully adjustable in height.
The profile of this chair is also slim, unlike the bulky office chairs that you often see in showrooms or catalogs. This makes your office look more modern and responsive to anything that may come up.
The dual wheel casters give your chair a smooth performance. The base is made of heavy duty nylon to ensure that you will get reliable use of this chair for years to come.
You can get this chair in a number of colors including black, blue, gray, or burgundy. You are sure to find a color that will match the decor of your office.
One last thing about the BL-ZP-806-BK-GG office chair is that it is really affordable, at the low $100s. If you want to furnish your office with a comfortable, attractive, and ergonomic chair without straining your budget, this chair may be for you.