Using a lumbar cushion for your office chair can help reduce pain and stress to the back. Lumbar cushion products have become far more popular these days due to people working at a desk for longer periods and also truck drivers who are on the road for days at a time.
If you suffer from lower back pain, it is recommended that you use a pillow that supports your back especially when sitting down for more that 3 hours per day. There are many different types of lumbar products out in the market today and in this article I will review the best lumbar cushions which can be used when on the road or when sitting on a computer chair.
Another type of cushion that can help you strengthen your back and improve your posture is a lumbar roll, these types of cushions are placed at the lower back of the chair to help keep your back straight, there are also products that get strapped to the chair to give you better comfort.
To take a quick look at the best selection of lumbar cushions for your office chair click here.
Best Lumbar Cushion For Office Chair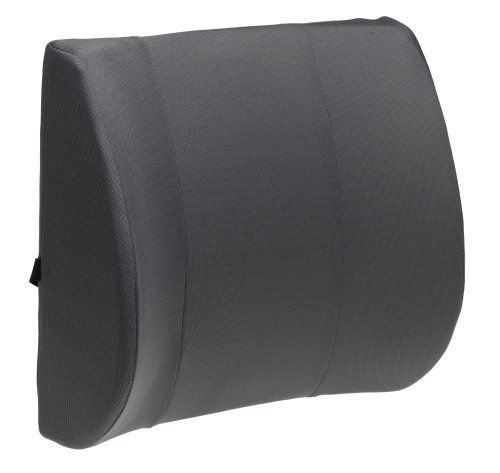 If you are looking for a well made cushion that can support your back and reduce pain, this product from Duro Med is a great option.
It is made from high resilient foam to get rid of any tension on the spine while sitting down. It also has a strap where you can easily connect the lumbar cushion to your computer chair or car seat.
The Duro-Med Relax-a-Bac, Lumbar Back Support Cushion Pillow has an orthopedic design and also comes with an easy to wash cushion cover. They also come in many different colors such as black, navy, grey and burgundy.
You can also easily take it with you when you travel and the size of the cushion is 14″ x 13″ which can fit to most computer chairs and car seats as well. This is an affordable cushion that can effectively relieve tension to your spine and reduce pain.
Popular Heated Massage Lumbar Cushion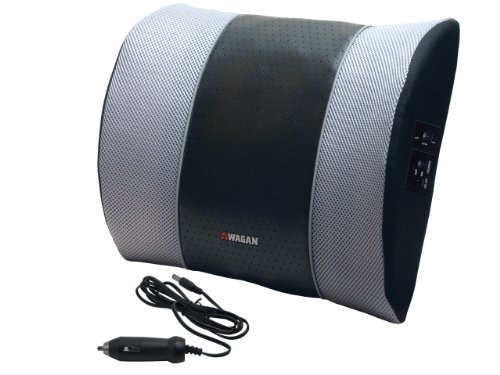 If you experience a lot of back pain or muscle spasms when you sit down, this product from Wagan is a great option as it can help reduce pain in the back.
It has an ergonomic design and also promotes better posture to prevent slouching while sitting on a chair. The cushion also has a built in motor that massages your lower back muscles to relieve aches and pains.
The Wagan IN2514 Heated Massage Lumbar Cushion has a built in heating element that provides gentle heat and this can be turned on by clicking on a switch. The lumbar cushion operates on DC Power and you also get an adapter when you purchase this product.
This is an affordable heating lumbar cushion that can effectively massage the back muscles and also prevent stress to the back. It is also a great product to help improve your posture.
When looking for a lumbar cushion for your office chair, make sure it is made from good quality materials that offer durability and also an ergonomic or orthopedic design to give you the best comfort and also to reduce pain in the lower back.