Are you looking for a well designed ergonomic office chair with neck support? When we sit at a desk for long hours, it is common to have bad posture or slouch over our desk if we are not sitting on a good quality office chair that is right for our body type.
Not choosing the right office chair can lead to health problems over time such as back pain, leg strain, muscle tension and also headaches. Which is why it is important to invest in a good quality chair that will support your back as well as your neck.
Purchasing a chair that gives good lumbar support can help reduce any strain in the lower back and also support your whole body when seated for long periods.
Below you will find the top rated computer chairs that can fully support your neck and back. If you would like to take a quick browse at the best computer chairs in this category, click here.
What To Look For In An Office Chair : Boss Multi Function Mesh Chair With Head Rest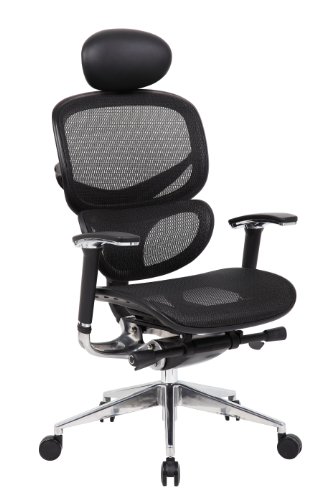 When looking to purchase an ergonomic designed office chair, it is important to find a chair that is fully adjustable to give your body the right comfort and support.
The Boss B6888-BK-HR Multi-Function Mesh Chair with Head Rest is a quality product that can give you full lumbar support and also support your neck and shoulders.
It also has adjustable arm rests which can be moved up, down, in or out. The mesh back is designed to give your back the best support while seated at your desk especially if you sit at your chair for long hours during the day or night.
Another great feature of this chair is the tilting mechanism, which can be locked in any position you want. The maximum weight capacity of this chair is 250 pounds in weight.
The seat slider feature allows you to adjust the seat depth of the chair, which is very important when looking for an adjustable computer chair. Priced under $350, this product is at a great price and very affordable.
Best Mesh Office Chair With Neck Support : Ergohuman  Black Mesh High Swivel Chair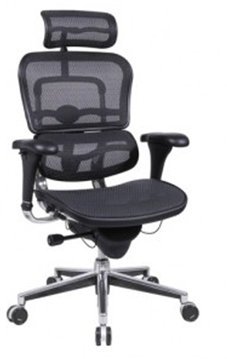 The Ergohuman ME7ERG-W09-01W09-01 Black Mesh Hi Swivel chair   is one of the best well designed computer chairs that can support your lower back as well as your neck.
It comes in many different colors such as black, blue, burgundy, copper, green and grey. The material is a strong mesh fabric to promote air circulation and reduce strain to the back.
There are eight ergonomic adjustments with this chair such as a tilt tension control, seat height, seat depth, tilt lock, back angle, arm height, back height and synchro tilt.
This office chair with neck support is also made from 97% recyclable materials and also has a greenguard indoor air quality certification.
If you are looking for a highly adjustable chair to fit your body type, this product from EuroTech is a great choice. Currently it is priced under $650 and is a well made heavy duty office chair.
No matter what office chair that you choose, make sure that it has a modern ergonomic design, is fully adjustable and also has a head rest for better neck support.
Related Products You May Be Interested In.