This post may contain affiliate links for products I recommend. If you click a link and buy something I may receive some compensation. This does not change the price you would pay.
A stability ball chair for office or the home is a great way to help strengthen your back muscles as well as help improve your posture when seated at your desk.
Stability ball office chairs have become very popular in the last few years and they come in a range of different colors as well as sizes.
If you have ever wanted to improve your posture, a balance ball office chair is a great way to improve your back health and you can always alternate between your normal ergonomic chair throughout the day.
In this article, you will find the best stability ball chairs for your office that are affordable and can improve your back health over time.
In a hurry, take a quick browse at the best stability ball office chairs here.
Best Stability Ball Chair For Office Or Home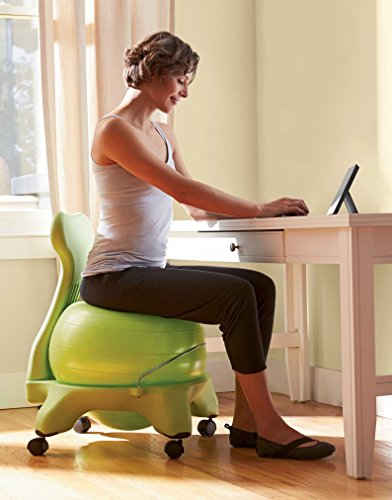 The Gaiam Balance Ball Chair is an alternative office chair which is highly recommended by health and fitness experts to improve your back health and also strengthen your core muscles.
The main benefits of using this stability ball chair is that it can help correctly align your spine and reduce stiffness, especially if you work at your desk all day.
This balance ball from Gaiam is recommended for individuals who are at least 5 ' to 5 ' 11″. If you are taller, you can also purchase leg extenders that add 2 inches.
The stability ball is 52 cm in diameter and is also removable. You also get an air pump with your purchase and comes with an adjustable metal support bar.
The maximum weight capacity of the chair is 300 pounds in weight and their are also many colors to choose from to help fit in with your decor.
if you are looking for an affordable balance ball office chair to help improve your back health, this product from Gaiam is a great choice.
---
How Does An Exercise Ball Office Chair Help To Eliminate Back Pain?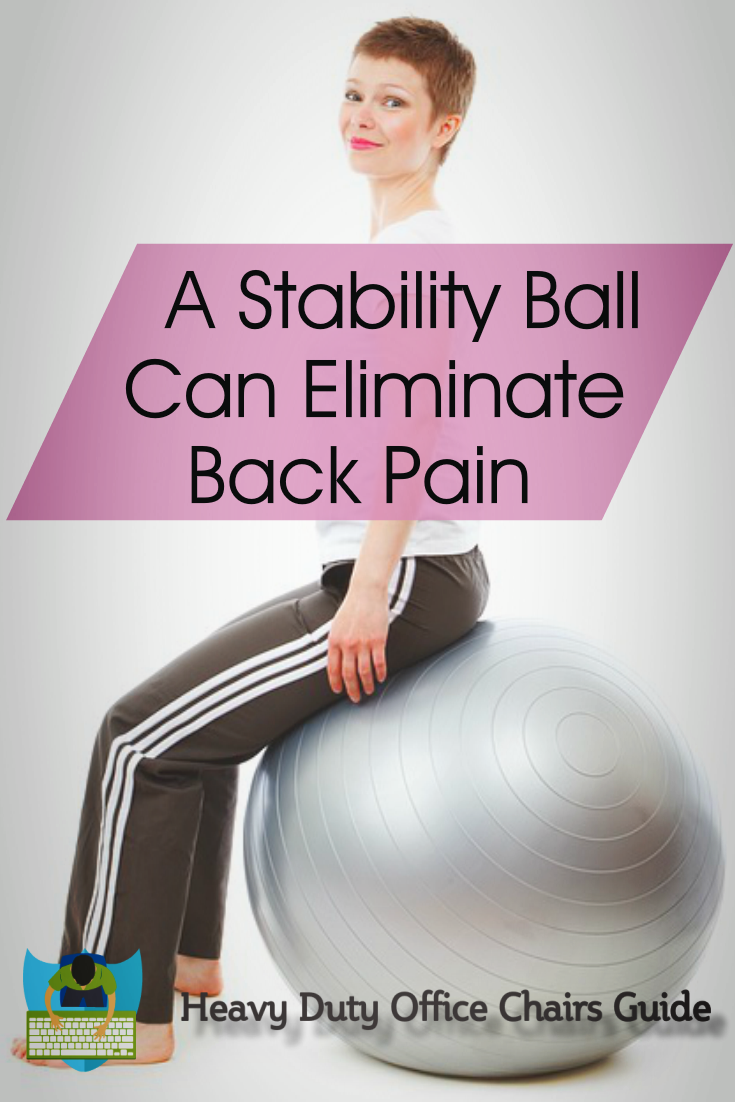 Anyone who works at their desk all day can experience pain in their spine as well as have bad posture if they do not sit on the right ergonomic office chair.
You no longer have to sit at your desk and experience a stiff neck or a sore back if you use the right ergonomic chairs such as a balance ball chair or Swiss ball chair.
Health professionals recommend you use the balance ball chair for at least 30 days to see the benefits
So what are the health benefits of using this type of office chair?
When sitting on the stability ball chair, it forces your body to use your core muscles in your back and abdominal area.
Sitting on this type of chair also improves circulation throughout the body which is why it is important to choose the right office chair when working at your desk for long hours.
Over time, your posture improves and you find you are sitting on your ball chair much straighter and will not experience any pain in your upper or lower back.
If you suffer from any stiffness in your lower back when seated or experience a lot of cramping in your legs, a stability ball computer chair is a great alternative that you should try.
---
Comfortable Balance Ball Office Chair For Better Back Health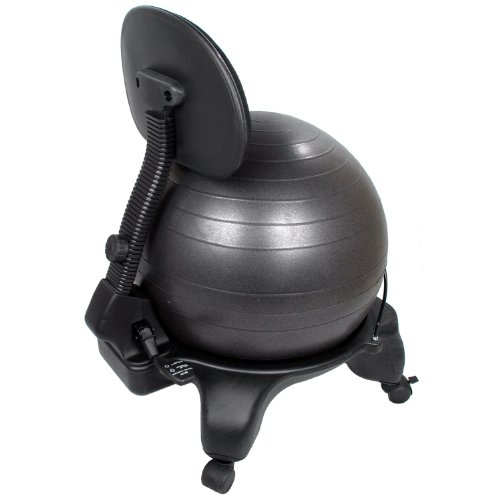 The Sivan Health and Fitness Balance Ball Adjustable Fit Chair with Pump is a great product to help prevent back pain over time when seated at your desk.
This stability ball computer chair is height adjustable and the castor wheels at the back are also lockable. The back rest also offers better back support.
There are many benefits of using this balance ball office chair such as improving your circulation, improve your posture and overall back health.
This type of stability ball chair also allows you to do stretches and do core muscle exercises which is a great bonus of owning your own balance ball chair.
The maximum weight capacity of this chair is also 300 pounds in weight and you can easily adjust the chair to suit your comfort level.
---
Haven't Found What You Are Looking For? Do A Search Below
---
Best Balance Exercise Ball Office Chair For Better Posture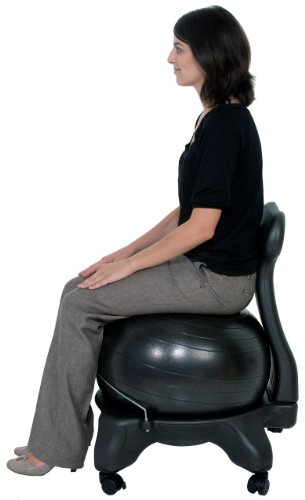 The Isokinetics Inc. Balance Exercise Ball Chair is another quality product that can help align your spine when seated for long hours.
If you work at a desk for most of the day, you can frequently experience stiffness, and a stability ball office chair is a great alternative to your regular office chair.
The chair frame is made out of metal to give better durability and there are also 4 different height adjustments on the legs to fit your height.
They also come in many different colors such as green, red, blue and purple.
The back seat of the balance ball chair is also adjustable, which is a first when it comes to these types of office chairs.
If you suffer from back pain or stiffness in the body when seated at your desk, why not give a balance ball office chair a try and they are also very affordable.
A stability ball chair for office or for the home is a great way to reduce back pain, strengthen your core muscles and help to reduce stiffness when seated at your desk.